"That's What HE Said"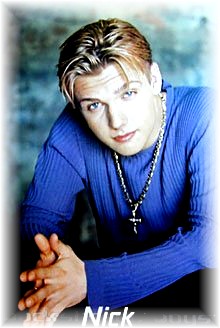 "Right now is the best times to be a teen because there is such a movement of the whole teen era. There are a lot of teen acts out there right now. And that is cool." Nick on the Best time to be a teen.Twist May 2001 p. 78

"Kevin is still Kevin. He's the same guy, he really hasn't changed that much." on fellow Backstreet Boy Kevin

"Fantasy. I'm really big into like the beach and everything, so I'd just say, like having a night out. It would have to be a full moon and the beach, and you know, just have it be all romantic and everything. That's a fantasy." Nick on his WILDEST fantasy

"I consider myself 'a modern-day hermit'... I like to just sit around in my house and hide away." SuperTeen, August 1999

"We hope to be old people onstage together, as old as the Rolling Stones." USA Weekend, January 1999

"Howie can be serious at times, but at times he can be as crazy as me and Brian" Nick on Howie.

"Do I think it would improve my sex life? I didn't know I had a sex life right now!" Nick on Sex and Tattoos

"One of my big influences is Steve Perry from a group called Journey-- a really famous rock group, almost. He's been one of my influences since nine years old." on Musical Influences

"just you know, live" on boggling success.

"I don't care if people see me with my hair sticking out to there. It's just me" on being home in Florida.

"That's something every artist in the industry wants"

"That's the one goal I have" on Respect.

"Sometime I don't know why they do that, It's mind-blowing basically" on the fans erupting like a frantic crowd.

"I usually stay in bed quite late, 'till about lunchtime, one of the luxuries I allow myself" on being home.

"I tend to go out late afternoon either to play basketball or meet up with friends." on getting out.

"She makes me all my favorite dishes, like chicken with mushrooms, noodles with cheese sauce and fabulous roast dinners and hot pots" on his mom Jane.

Updated: 12/28/00 11:57 P.M